Bruno Heller is an English screenwriter, executive producer, showrunner and the creator of The Mentalist as well as HBO's ROME, and sometimes director.
Heller dominated the writing of the first season of the show, being the sole writer for the pilot and four other episodes, and also one of the two writers of seven other episodes.
Life and works
[
]
Heller was born and raised in London along with three siblings, one of whom is the novelist Zoe Heller. The son of Lukas Heller and Caroline Carter Heller credits his father's success with likely keeping him from becoming a writer for many years.
Before venturing into the writing career, Bruno Heller graduated from The University of Sussex in Brighton, and spent years working various films jobs, eventually becoming a successful boom operator.
Heller would make his screenwriting debut on the 1994 Portuguese film PAX, which starred Amanda Plummer. Following the European release of PAX, Heller would move to Los Angeles in 1997 just like Simon Baker. Bruno then began work on two television projects for the USA Network: Touching Evil and The Huntress, before co-creating the HBO series Rome. He is now working on the CBS program, The Mentalist, which he created, and is now writing.
Beside being a prolific screenwriter, Heller started his directional debut in The Mentalist with the episode "Cheap Burgundy".
He also made a cameo appearance in the ninth episode of the third season entitled "Red Moon". He played a role of the policeman eating at the table while listening to the conversation. (See the screenshot).[1]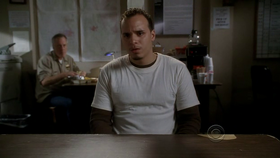 In a recent interview, Heller stated that the fifth season of the Mentalist will be promising and full of surprises regarding Red John, the show's main unseen antagonist. Although the t.v. series won't unveil Red John until the grand finale in 2014, Heller stated that now the character of Simon Baker, has captured a Red John's follower and hold her in custody, the viewer will know a lot more about the killer. "There will be a cascade of information – how he operates, who's with him and who isn't, and what his game really is." Heller quoted.
Heller is also the developer and showrunner of Gotham which premiered on Fox in 2014.
Episodes Written
[
]
Bruno Heller has written a total of 21 episodes over seven seasons. He has also directed 1 episode.
Note
[
]
↑

Information confirmed by Jordan Harper, The Mentalist's writer.