The Mentalist Wiki is a collaborative project dedicated for everything related to the CBS series The Mentalist, starring Simon Baker. This encyclopedia is written for fans by fans, and everyone is welcome to participate. Edit the articles, upload your photos and videos of the series, comment in our forum or write a blog post. The current Admins are Hito7187199, BattleshipMan and Manuel de la Fuente. Contact them if you have any questions or just to talk about the series.


The Mentalist - Behind the Scenes - Looking Back
Season 7 is the final season of The Mentalist and which premiered on November 30, 2014.
The Mentalist tells the story of Patrick Jane, an independent consultant with the California Bureau of Investigation (CBI), who has a remarkable track record for solving serious crimes by using his razor sharp skills of observation. He also makes frequent use of his mentalist abilities to lead witnesses or offenders into offering the actual facts of the case, as known only to them.
Within the Bureau, Patrick Jane is notorious for his blatant lack of protocol and his semi-celebrity past as a psychic medium, whose paranormal abilities he now admits he feigned. Patrick Jane's role in cracking a series of tough high-profile cases is greatly valued by his fellow agents.
However, no-nonsense Senior Agent Teresa Lisbon openly resists having Patrick Jane in her unit and alternates between reluctantly acknowledging Patrick Jane's usefulness and blasting him for his theatrics, narcissism and dangerous lack of boundaries. Lisbon's team includes agents Kimball Cho, Wayne Rigsby and rookie member Grace Van Pelt, who all think Patrick Jane is a loose cannon but admire his charm and knack for clearing cases. Read More...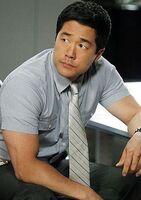 Kimball Cho
is a member of the
CBI
team, along with
Teresa Lisbon
,
Patrick Jane
,
Wayne Rigsby
and
Grace Van Pelt
. He is a very serious person who always follows cases "by the book" like
Teresa Lisbon
, as opposed to
Jane
's unique take on investigations. He mainly acts as the interrogator, because he is very persuasive and an excellent listener. He had a very beautiful girlfriend, who appeared in episode
Blood In, Blood Out
, where we learn a lot about his past. He has unsuspected skills as a ladies' man which he displays in the episode
Crimson Casanova
. He's always careful with his money and is a bit superstitious, as we see in the episode
Red Rum
.
Read more…
See more at the Poll Archive
Blogs
I just finished watching The Mentalist and I have to tell you it's the best thing. I have been watching and reading all sorts of things for a long lo…
it has been more than a year since "The Mentalist"finale, and now, there is something interesting: a facebook page and a petition have  been created,…
I just want to extend my heartfelt gratitude and appreciation to ALL the contributors of The Mentalist Wiki!It has been long overdue!At the risk of s…
See more >